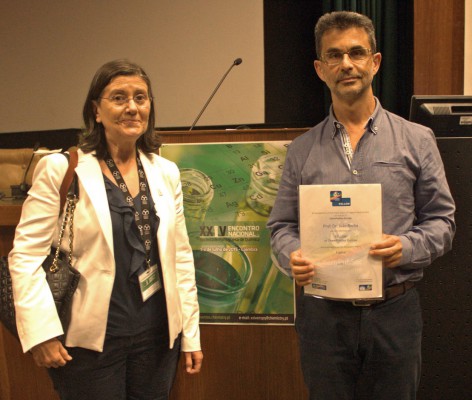 Jo"o Rocha honored by ChemPubSoc Europe
Maria Josť Calhorda, president of the Portuguese Chemical Society, delivered the Fellow distinction on behalf of ChemPubSoc Europe
João Rocha, director of CICECO – Aveiro Institute of Materials, has just been awarded the title of Fellow of ChemPubSoc Europe. The tribute, made for the first time to a national researcher, recognizes his contribution to the consolidation of the organization that gathers 16 European chemical societies and whose mission helped to enhance worldwide the European research in the field of chemistry.
João Rocha admits, "from the outset, a believer and strong advocate" of ChemPubSoc Europe that says, contributes to "impose Europe as the region of the world where research in chemistry is stronger and with higher quality" and "Portugal as a country in which the advancement of this science in the last two decades has been amazing."
In 1995, the Nobel Prize in Chemistry Jean-Marie Lehn had the vision to create a high quality scientific journal to the world, with the sponsorship of European chemical societies. Thus emerged Chemistry - A European Journal. Ten other magazines followed, all sponsored by a consortium, today gathering 16 European chemical societies, known as ChemPubSoc Europe.
At the same time, each national society ceased to publish their individual journals. The result of this movement was a dramatic change in the landscape of European scientific publication in the field of chemistry and a huge improvement in quality, global impact and visibility of the scientific production of the old continent. The Portuguese Chemical Society, in particular, gathered great benefits in this process.
To honor scientists who contributed significantly to the consolidation of this project, ChemPubSoc Europe in 2015 decided to award the title of Fellow to 35 European Chemical Researchers including Nobel Prize winner Jean-Marie Lehn. João Rocha is the first Portuguese to receive this award.
It is recalled that, among the numerous distinctions received by the head of CICECO, in September last year João Rocha, with a historic scientific background of 435 scientific papers, 23 book chapters and more than 11,000 citations of his scientific production, was invited to be a member of the European Academy of Sciences.