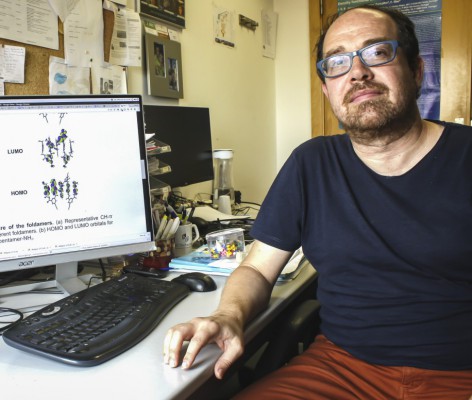 Manuel Melle-Franco seeks for new horizons in molecular electronics
Development of a new family of highly efficient nanowire with potential applicability on molecular scale electronics revealed in Nature Communications.
Research developed by Manuel Melle-Franco, researcher from CICECO / University of Aveiro (UA), in partnership with researchers from the University of the Basque Country (UPV/EHU) and the University of Barcelona (UB), led to produce a new family of nanowire cables that open new horizons in molecular electronics. The findings were recently published in the journal Nature Communications.
Electronic miniaturization is close to a limit of current materials and technologies, and there is a growing demand for alternative materials to overcome these limits. To achieve this goal is necessary to advance to new approaches, such as molecular electronics, which aim to use molecules as the basic components of electronic circuits.
Some molecular structures, as the one described on the paper, have special properties which allow to act as tiny cables with high electric conductivity at the nanoscale. Another significant step forward on the electronic circuit and devices miniaturization process.
Additionally, Manuel Melle-Franco recently published an article, also in the nanotechnology field, in the "News and Views" section of Nature Nanotechnology journal about triangulene, a fragment of magnetic graphene both fascinating and elusive, which first synthesis made the cover in April's Nature Nanotechnology.
Article references
Marco Carini, Marta P. Ruiz, Imanol Usabiaga, José A. Fernández, Emilio Cocinero, Manuel Melle-Franco, Ismael Diez-Perez, e Aurelio Mateo-Alonso "High Conductance Values in π-Folded Molecular Junctions" Nature Communications 8, Article number: 15195 (2017) DOI: 10.1038/NCOMMS15195
Melle-Franco, Manuel. "Graphene Fragments: When 1 + 1 Is Odd." Nature Nanotechnology 12, 292–293 (2017). DOI:10.1038/nnano.2017.9