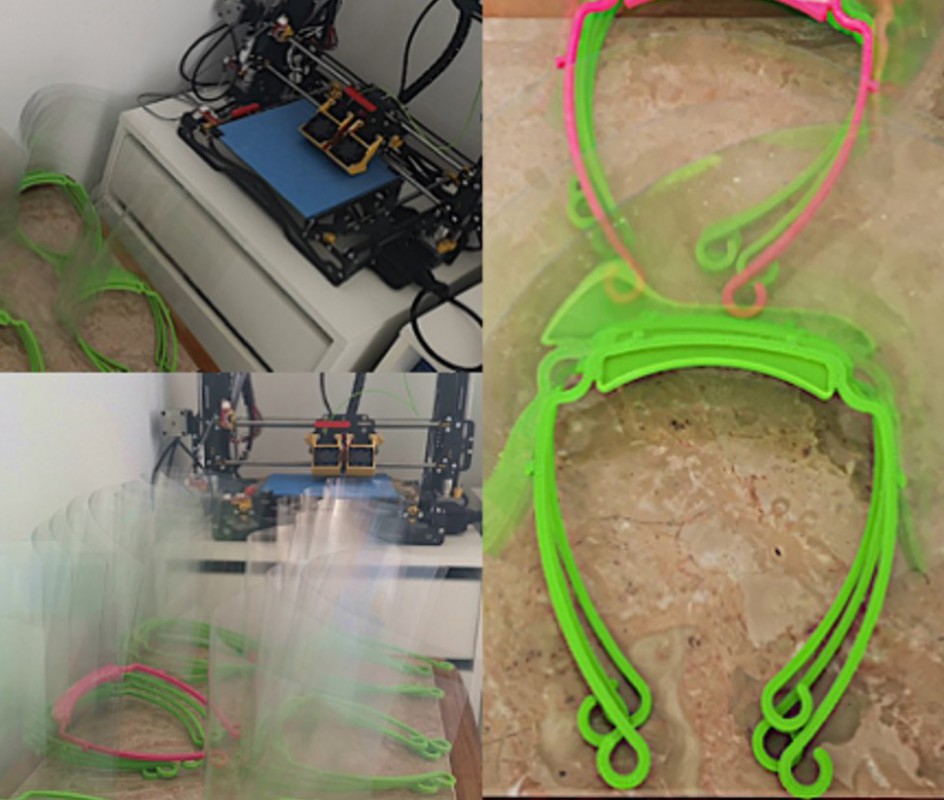 Contribution to fight against the COVID-19 pandemic
CICECO, DEMaC and Makerīs Lab, from the University of Aveiro, produce face-visors and accessories for professionals protection through 3D printing.
Motivated by civic duty and aware of the demands placed on the national health system and its professionals, and the current known shortage of different types of equipment to protect and minimize the spread of SARS CoV-2, Maker´s Lab, the Department of Materials and Ceramic Engineering (DEMaC), and CICECO, from the University of Aveiro, mobilize all possible means to contribute minimizing this shortage.
Thus, using the Maker´s Lab and DEMaC Printers, the students and collaborators, André Santos, Marco Medeiros, Mónica Faria, and Pedro Duarte, joined forces and produced more than 400 face-visors and more than 100 accessories for another type of face-visors, for individual protection of professionals who have to guarantee essential services and attendance to the public, within the scope of measures to combat COVID-19.
3D printing, as it is commonly known, is one of the technologies of additive manufacturing, which creates three-dimensional physical objects, directly from CAD (Computer-Aided Design) models by deposition or layer-by-layer printing of the material. This technology has several advantages, namely the ability to respond to the need to produce specific parts and equipment quickly and cheaply.
Using a polymer called PLA (polylactic acid) and the CAD drawings provided by Erik Cederberg / 3DVerkstan, the Maker´s Lab and DEMaC / CICECO printers, normally destined for the research and scientific development of materials are, during this quarantine time, made available for the production of more than 500 equipment and accessories for Personal Protective Equipment (PPE), donated hospitals and host institutions.