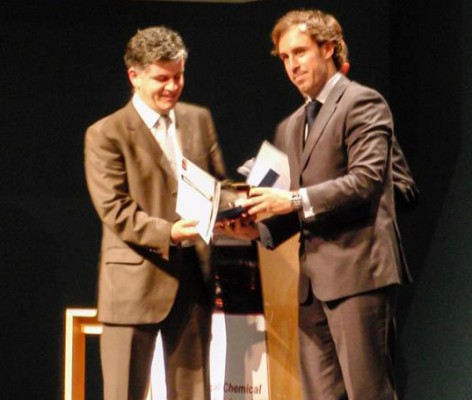 João Coutinho won the Professor Almiro e Castro Award
2014-09-16
The tribute took place during the 12th International Chemical and Biological Engineering Conference (CHEMPOR 2014)
The distinction, awarded to the researcher from the Department of Chemistry and CICECO from the Academy of Aveiro during the 12th International Chemical and Biological Engineering Conference (CHEMPOR 2014), held at the end of last week in Porto, honors the work that the researcher has conducted in recent years in areas which range from the purification of biomolecules, the characterization of biofuels passing by new technologies for oil recovery.
"The work that was awarded is the result of dedicated effort of a huge team coordinated by me," welcomes João Coutinho after receiving the award instituted by Paralab, the first delivered by this national company in the area of distribution scientific equipment for laboratory and industrial applications. The award aims to distinguish, every three years, the scientific merit of a teacher and researcher of Portuguese nationality, under 45 years old, which has distinguished himself in the areas of Chemical Engineering, Biological and related.
"This award is very important. It is the first award of this kind devoted to Chemical and Biochemical Engineering at the national level and appears at a time when the national scientific system, after years of intense growth and at a time that attained a projection of international level has become in jeopardy by a policy of scorched earth that instead of building upon the solid foundations that have been created, improving the existing system, is devastating everything to create a new structure in which the scientific community does not review itself", remarks the researcher.
"This is particularly valid in Chemical Engineering where, although according to bibliometric studies of the Portuguese Foundation for Science and Technology is a scientific area that stands out in international comparisons, and the one that most doctors manages to put to work in companies, has been marginalized and outclassed in this whole process, "he says.
Thus, "this award is for us, all the members of my research group who see it as their own, an incentive to continue the work we have been developing in the certainty that there is a recognition, if not from the official entities at least of the Portuguese community of Chemical Engineering in relation to the quality of science that has been developed at the UA in the area of Chemical Engineering. "