21 November 2014
PrintCer3D wants to enhance new markets in the ceramic sector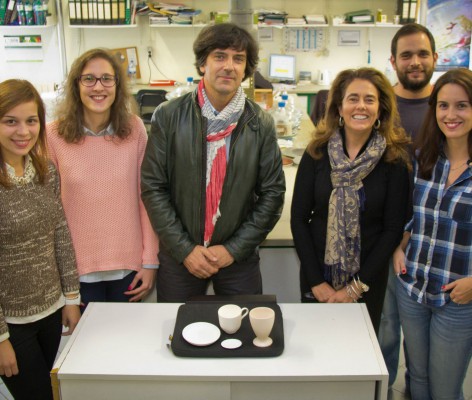 A project of additive rapid manufacturing through 3D printing ceramic material, developed at the University of Aveiro (UA), aims to catapult the production sector. The project is called PrintCer3D. In addition to the School of Design, Management and Production Technologies Northern Aveiro (ESAN), now in the new facilities of Oliveira de Azeméis, Center for Research in Ceramics and Composite Materials (CICECO), and Department of Materials and Ceramic Engineering (DEMaC) involves the Costa Verde and the Technological Centre for Ceramics and Glass (CTCV).
The rapid manufacturing through 3D printing, promises to revolutionize the industry, highlights Martinho de Oliveira, PrintCer3D project coordinator and director of the School of Design, Management and Production Technologies Northern Aveiro. With the recent move to new facilities, the ESAN now own laboratory and workshop conditions necessary for the development of even broader partnerships within this business area.
One example of this is PrintCer3D project which aims the development of solutions for rapid manufacture of utilitarian dinnerware in porcelain by three dimensional printing with a paste of porcelain. The rapid manufacturing technology and materials used in printing require adjustments in order to impart strength and a finished look to the product. In order to improve theses aspects the three-dimensional printed object must pass through various stages of industrial preparation. These studies will be developed in ESAN and CICECO closely with the other partners.
With this technology, still in development, it will be possible the production of small batches, with much shorter development time and higher margins in the geometric complexity and functionality of parts.
The 3D printing technology is currently accepted by the market as a solution for rapid prototyping. However as the technology evolves should also be regarded as a manufacturing tool. This evolution is already a reality in the production of plastics, but not ceramics. It is also intended with this project, demonstrate the industrial feasibility of 3D printing on ceramic material.
The team that developed the project is composed, besides the coordinator Martinho de Oliveira, by Paula Vilarinho (CICECO), Professor at DEMaC, Liliana Pires, Professor at ESAN, and by the research fellows Ana Amorim, Daniela Gomes and Pedro Duarte.
Related Articles
We use cookies for marketing activities and to offer you a better experience. By clicking "Accept Cookies" you agree with our cookie policy. Read about how we use cookies by clicking "Privacy and Cookie Policy".