6 April 2016
New green material with high applicability in civil engineering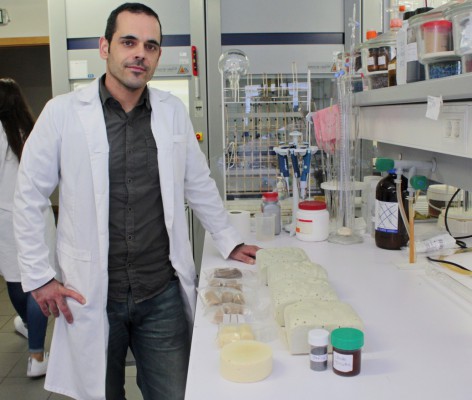 A new foam created from the crude glycerol that is a byproduct of biodiesel, is being tested in various ways and has proven a promising degree of thermal and acoustic insulation and good fire resistance. The presentation, on the fire resistance of this new foam in International Conference on Materials Science & Technology (ICMTech-2016) of the International Association of Advanced Materials (IAAM) held in India received the "Young Scientist Award".
Foams from crude glycerol used without pre-treatment (by-product of biodiesel production) is being tested in the scope of a PhD thesis from CICECO and the Department of Chemistry from UA for various applications. The major novelty here is the use of crude glycerol without pretreatment, which resulted in the process patenting. Applications already exist in the market for glycerol but in its pure state and subject to pre-treatment with substantial costs.
Fatty acids and methyl esters that appear associated with glycerol as a byproduct of biodiesel, which are extracted in the pre-treatment are to favor the homogenization of the structure, defends Nuno Gama developing the doctoral thesis under the guidance of Artur Ferreira, director of the Águeda School of Technology and Management (ESTGA), and Ana Margarida Barros, professor, Department of Chemistry of UA, both CICECO researchers.
The three properties tested in this new foam were thermal insulation, acoustic insulation and fire resistance properties are highly valued in construction applications. In the case of fire resistance, the results were presented in the congress of the International Association of Advanced Materials (IAAM) in Delhi, India, at the beginning of March, and have worth to Nuno Gama the "Young Scientist Award" that distinguishes the best presentation of a young scientist at the congress.
Flame retardant foam
The communication presented in India shows how the addition of expanded graphite to the unpurified glycerol results in a foam which retards the spread of fire, unlike what happens with polyurethane foam currently used in the insulation of buildings. The expanded graphite addition creates a film that hinders the reaction with oxygen and heat transfer, resulting in less heat and lower amount of smoke release.
The research also tested in several other aspects, such as on the mechanical strength and hardness and behavior in the acoustic insulation. In this regard, the results presented at a scientific meeting held in Sweden in 2015 showed a behavior equal or better to existing materials on the market. In this case, with varying concentrations of the crude unpurified glycerol and another polyol resulting from coffee grounds liquefaction foams. The foam that containing higher concentration of crude glycerol resulted in a material with higher coefficient of acoustic absorption at high frequencies and another with higher concentrations polyol of coffee grounds liquefaction was more effective in absorbing low frequency.
The work takes place under the CICECO project and the partnership with Sapec Química.
Related Articles
We use cookies for marketing activities and to offer you a better experience. By clicking "Accept Cookies" you agree with our cookie policy. Read about how we use cookies by clicking "Privacy and Cookie Policy".