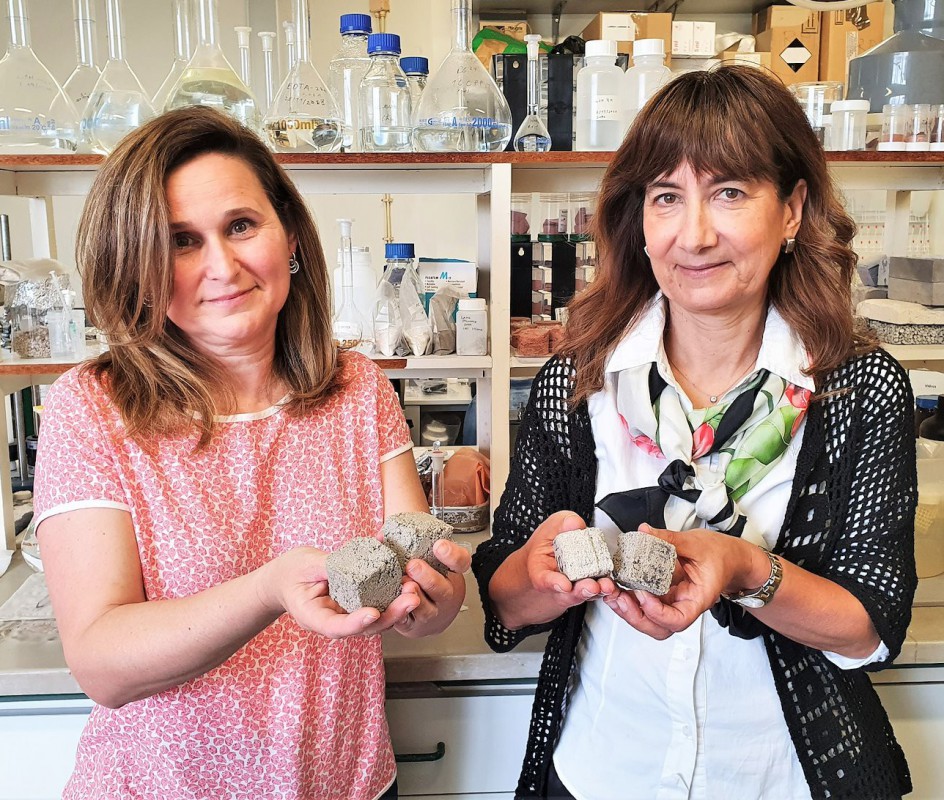 How about a cup of coffee and a wall?
2022-06-09
Paula Seabra and Marinélia Capela devolop green thermo-plasters in partership with researchers from University of Palermo and Institute of Nanotechnology of Lecce.
In Portugal alone, more than 34 tons of coffee are consumed daily. If the caffeine extracted from the beans and diluted in hot water gives you energy each day, what do the 34 tons of coffee grounds left in the machines each day give you? Waste! With this in mind, two researchers from the University of Aveiro (UA) have contributed to the discovery that dregs, when added to plaster mortars used in construction, promote a huge improvement in the energy efficiency of buildings.
Published in the journal Construction and Building Materials, the discovery potentiates the use of coffee grounds as a raw material that otherwise ends up in landfills, a practice with enormous environmental and economic costs, and at the same time decreases the need for the consumption of virgin raw materials used until now in plaster mortars.
"Globally, in 2021 alone, the consumption of coffee-based beverages was about 9,978 million kilos," stresses Paula Seabra, a researcher at CICECO - Aveiro Institute of Materials, one of UA's research units, who, along with Marinélia Capela, also from CICECO, signs the paper. Researchers from the University of Palermo (Italy) and the Institute of Nanotechnology of Lecce (Italy) also participated in the work.
Given the huge amount of coffee grounds that annually end up in the planet's landfills, "this paper shows a possible alternative for reusing ground coffee waste in new green building materials intended for thermo-removal applications in construction, in a circular economy context," says the researcher.
Looking at Europe, where about 75 percent of the buildings are not energy efficient - "it is predicted that most of them, in 2050, will still be in use" - and in a perspective of their rehabilitation, the researchers concluded that if the current plaster mortars consist of 10 percent coffee grounds, replacing the aggregate material usually sand, these "promote a decrease in thermal conductivity of about 47 percent, so they can contribute to improving the energy efficiency of buildings."
In addition to mortars, the researchers are already studying the use of coffee grounds in the development of construction materials with other binders (e.g. cement, geopolymers), with low thermal conductivity.