26 June 2013
Mara Freire win grant from European Research Council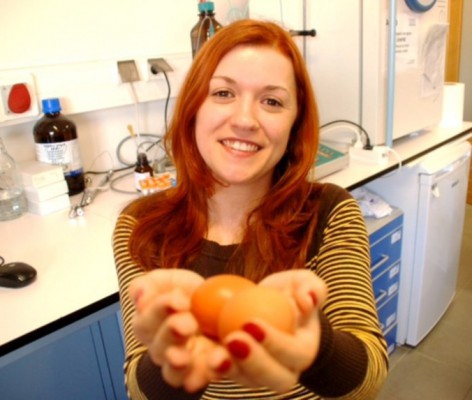 Presently, the researcher explains, "there is a huge concern with the development of antibiotic-resistant microorganisms and, consequently, diseases who do not respond to conventional therapies and those for whom traditional vaccination has little effect".
These challenges are, therefore, a strong motivation for the development of new drugs, alternative to those known, among which are the antibodies, also known as biopharmaceuticals. However, Mara Freire points out, "the current use of antibodies is still conditioned by its high cost of production."
In recent years, the study of the production and purification of antibodies for use in humans has focused mainly on antibodies produced by small size animals. In addition to the high costs of production, recovery of these antibodies requires the use of invasive practices.
"A potential alternative is based on immunoglobulin Y (IgY), an antibody produced in large quantities and present in egg yolk," points out CICECO's researcher. Apart from not requiring invasive techniques to obtain it from egg yolk, "the fact that the IgY is abundantly produced contributes to a reduction in production costs by the pharmaceutical industry", highlights Mara Freire.
Mission: To purify the IgY
But despite all the advantages associated with IgY, its cost is still significant. "This is due to the lack of an effective purification technique that separates the immunoglobulin from other contaminating proteins," says Mara Freire.
Thus, the greatest challenge within this winning project from UA is the development of a new technique for the purification of IgY from egg yolk to obtain antibodies with the required purity for the pharmaceutical industry and with a competitive price. To this end, Mara Freire envisions: "we will use two-phase aqueous systems made of ionic liquid, containing mostly water, bio compatibles and more environmentally friendly."
The development of a new technique for the purification of antibodies will have "a very significant impact on human health and the economy", ensures the researcher.
Increased responsibility
Receiving one of the most important European grants to support scientific research left Mara Freire ecstatic: "I feel it was a huge achievement and a great recognition to the scientific work I developed over the past ten years, despite all the new responsibilities it involves". The grant will allow this UA's scientist to "break new grounds in the search for alternative drugs and will also fund an entire research team".
João Rocha, CICECO's director, salutes the recognition achieved by the researcher from his laboratory. "Portugal has now young scientists whose professionalism and creativity rub shoulders with the best of what is known out there," points out the responsible. Similarly, João Rocha notes that "the country has also renowned research centers, allowing our brightest scientists to develop their full intellectual potential. The Associate Laboratory CICECO, where Mara Freire works, is one of those places".
"The award will enable this young CICECO's scientist to create an innovative area of research with a potentially considerable economic impact" noted John Rocha.
Related Articles
We use cookies for marketing activities and to offer you a better experience. By clicking "Accept Cookies" you agree with our cookie policy. Read about how we use cookies by clicking "Privacy and Cookie Policy".