28 August 2023
New Highly Sensitive 3D-Printed Portable Sensor for Water Pollutants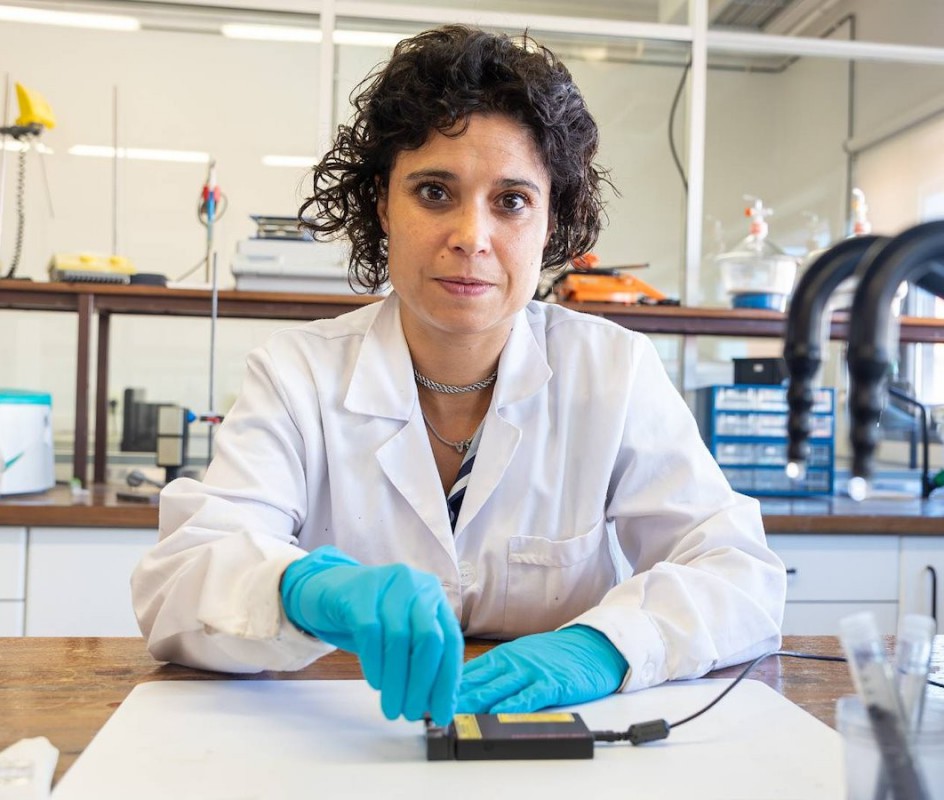 A team of researchers from the University of Glasgow, Leipzig University of Applied Sciences, and CICECO, University of Aveiro (UA), has developed a 3D-printed sensor coated with gold and silver nanoparticles, enabling the detection of low concentrations of pesticides in water samples. The creation of this metallic nanoparticle-coated device made headlines in the "Macromolecular Materials and Engineering" journal and garnered attention on the "Advanced Science News" website.
Monitoring pollutants in water samples is of utmost importance to preserve ecosystems, safeguard human health, and ensure sustainable water resource management. "However, to do so effectively, advanced portable sensor technologies capable of detecting even the slightest traces of contaminants are needed," explains researcher Sara Fateixa from the Institute of Materials of Aveiro (CICECO), Department of Chemistry, who leads this project at UA.
Hence, the team developed this portable 3D-printed sensor, which is more cost-effective than other market alternatives due to its metallic nanoparticle coating. Tests conducted by the researchers showed that even with very low pollutant concentrations, this specific sensor can provide reliable results, unlike sensors coated with other nanomaterials.
The device utilizes Surface-Enhanced Raman Spectroscopy (SERS), a non-destructive vibrational technique that uses gold or silver nanoparticles to amplify the signal of pesticides adsorbed on its surface, enabling the detection of trace amounts of pollutants and their analysis.
As a result, the newly developed sensor "could have an impact on environmental monitoring, as these optical sensors can make water quality monitoring faster, easier, and more accessible," adds Fateixa.
The fabrication process of this device began with 3D printing of sensors using fused filament (a common type of 3D printing). Subsequently, these 3D cellular structures, composed of polypropylene and carbon nanotubes, were coated with silver nanoparticles. Then, through a process called SERS, pollutant dyes such as methylene blue were added for water testing. Test strips were later printed for use in a portable device (referred to as Raman) to detect deliberately added pesticides or herbicides in more complex water samples, such as the saltwater of the Ria de Aveiro, explained the researcher.
The outcome of this research was published in the "Macromolecular Materials and Engineering" journal, where it will also feature as an interior cover (some scientific articles are highlighted within the journal with a new cover featuring an image related to the work and a brief summary of the research). It has also been highlighted in the environmental section of "Advanced Science News," an online channel by Wiley, which disseminates science by publishing interviews about significant works in various scientific fields. "Following the publication in the 'Macromolecular Materials and Engineering' journal, we were contacted by 'Advanced Science News' for an interview, which ranks among the most-read articles of the first week of July," emphasizes Sara Fateixa.
Before being commercialized, this 3D sensor will undergo further testing with specific materials to assess its durability.
This research is the result of a partnership between three universities: UA, with researcher Sara Fateixa, University of Glasgow, and Leipzig University of Applied Sciences (HTWK Leipzig), with the support of the European Cooperation in Science and Technology (COST), a European Union organization that funds the creation of interuniversity research networks.
Sara Fateixa earned her Ph.D. in Nanosciences and Nanotechnology from the University of Aveiro in 2013. She is a contracted researcher at nanoLAB@UA and CICECO – Aveiro Institute of Materials, conducting work that combines chemical synthesis of nanomaterials and Raman spectroscopy applied to sustainable nanotechnologies. Her work was internationally recognized in 2017 when she was awarded the WITec Silver Award. In 2022, she received €20,000 from the CICECO Fund for Young Researchers. Her interests include imaging spectroscopy techniques, hybrid materials containing 2D materials and metallic nanoparticles for applications in health and the environment.
Related Articles
We use cookies for marketing activities and to offer you a better experience. By clicking "Accept Cookies" you agree with our cookie policy. Read about how we use cookies by clicking "Privacy and Cookie Policy".