16 September 2014
Paper highlighted in ChemSusChem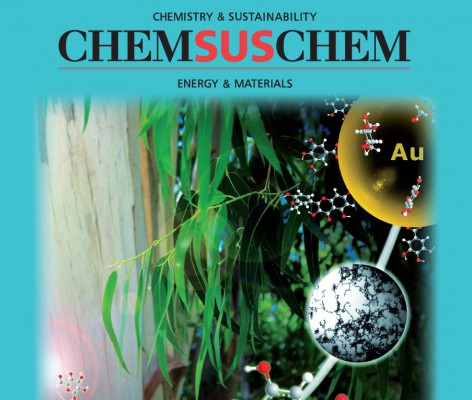 A team of researchers from CICECO (Sónia A. O. Santos, Ricardo J. B. Pinto, Carlos Pascoal Neto, Armando J. D. Silvestre, Carmen S. R. Freire), with the participation of elements from QOPNA (Sílvia M. Rocha) and TEMA (Paula A. A. P. Marques), from the University of Aveiro, managed to get different types of gold and silver nanoparticles using a simple environmentally friendly methodology through the use of an aqueous extract of eucalyptus bark as reducing and stabilizing agent. Through a systematic study, using advanced chromatographic techniques, the researchers were able to determine for the first time the role of each of the families of compounds present in this plant extract as well as the specific function of the major compounds. The study made the back cover of the September edition of the prestigious journal ChemSusChem.
"The area of nanotechnology, including the development and production of nanoparticles with specific sizes and morphologies, is currently one of the areas of greatest importance due to the numerous applications of such materials as sensors, nanopigments, smart textiles, fuel cells, functional packaging, controlled release of drugs, antimicrobial materials, biomarkers, among many others, "explain the authors of the article.
The conclusions obtained in this study can be extrapolated to a wide range of natural extracts. In this perspective, these results can be a driving force for the optimization of green synthesis of metal nanoparticles in order to obtain an increasingly effective control of their properties.
The article can be found in http://onlinelibrary.wiley.com/doi/10.1002/cssc.201402781/abstract
Related Articles
We use cookies for marketing activities and to offer you a better experience. By clicking "Accept Cookies" you agree with our cookie policy. Read about how we use cookies by clicking "Privacy and Cookie Policy".