20 May 2015
Electronic textiles from the future to the present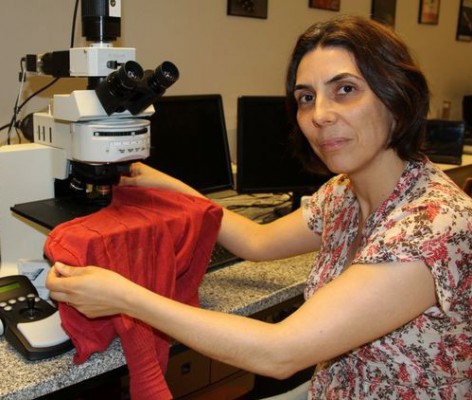 An international research team, led by Helena Alves, a researcher at CICECO - Aveiro Institute of Materials, University of Aveiro, discovered a new technique to incorporate transparent and flexible graphene electrodes in textiles. The innovative technique allows the textile industry, from now on, to produce clothes with computers, telephones, mp3 players, GPS, mobile phone batteries charged with body heat and many, many more electronic devices to be built into the fabric. The imagination is really the limit for the potential discovery published at the end of last week in the journal Scientific Reports of the Nature group, with the title "Transparent conductive graphene textile fibers".
"The concept of technology incorporated in their own clothes is emerging but so far, have her as part of textile fabric was impossible" said Helena Alves, leader of the research team. "The textiles are fragile and cannot tolerate many of nanofabrication processes used to deposit metals that involve high temperatures or other harsh processes", remembers the scientist. In addition" the tissues are fibrous, which make it difficult the adhesion of other materials ". Thus, until now, the researcher indicates "the various processes developed to include electronic devices in the tissues required to be deposited a large layer of material, in order to be conductive, but at the expense of the transparency and flexibility of the tissues."
The problem was solved by the research team using a graphene monolayer with controlled growth, which was suspended in an aqueous solution and transferred into the fibres. Thus, it was possible for researchers to use a technique at ambient temperature and compatible solvents with other fibres.
The controlled growth of graphene made it possible to produce textiles with high conductivity and large electron mobility. Thanks to the transparency and flexibility of graphene, the texture, the ductility and the colour of the tissues remain unchanged.
"The development of a transparent electronic incorporated in textiles will allow our clothes incorporate devices such as GPS, batteries that carried the phone with the warmth of our body, medical monitoring sensors, camouflaged security devices, etc." says Helena Alves.
In the research published in the journal were also involved researchers from the University of Exeter (UK), the INESC-MN and Instituto Superior Técnico (University of Lisbon) and the Centexbel (Belgian Textile Research Centre)
Related Articles
We use cookies for marketing activities and to offer you a better experience. By clicking "Accept Cookies" you agree with our cookie policy. Read about how we use cookies by clicking "Privacy and Cookie Policy".