25 June 2015
Andrei Kholkin won the Ferroelectrics Recognition Award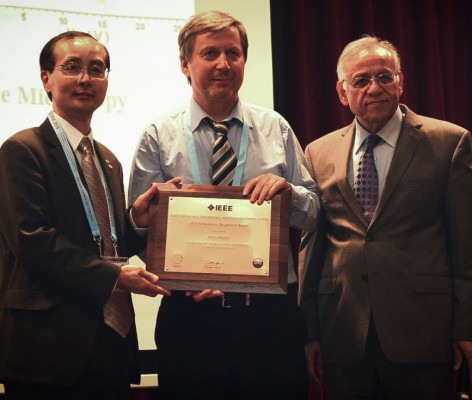 Andrei Kholkin, researcher of the Department of Physics and CICECO, University of Aveiro, won the Ferroelectrics Recognition Award" awarded by the IEEE Ultrasonics, Ferroelectrics, and Frequency Control Society (UFFC). The prize was awarded by the most important and representative international organization to promote knowledge in the fields of electrotechnical engineering, electronics and computing, to Andrei Kholkin honoring his contributions to an understanding of ferroelectrics at the nano scale. This is the first time the IEEE-UFFC Award comes to Portugal. This prize is awarded annually by the Ferroelectrics Standing Committee in order to honor members of the Ferroelectrics Society for outstanding achievements in their scientific work as well as in promoting the Ferroelectrics Community.
Andrei Kholkin made a significant contribution in the area of lead-free piezoelectric materials, materials with high electromechanical coupling, thin films and nano structures as well as methods for their research at the nanoscale. These materials are used in memory elements, microelectromechanical systems (MEMS), energy converters, as well as several devices for biomedical applications.
The ceremony of award took place on May 27 in Singapore, during the Joint IEEE International Symposium on Applications of Ferroelectric (ISAF), International Symposium on Integrated Functionalities (ISIF), and Piezoresponse Force Microscopy Workshop (PFM) (ISAF-ISIF-PFM 2015) conference of which Andrei Kholkin was one of the organizers. The IEEE (Institute of Electrical and Electronics Engineers) is one of the largest international professional associations, including more than 40 companies and 400 000 members. The UFFC Society annually awards the best experts in the field of technologies that have made an outstanding contribution to the development of technology. In 2012, Andrei Kholkin was nominated for the title "IEEE Fellow", within the group of six researchers in Portugal.
Related Articles
We use cookies for marketing activities and to offer you a better experience. By clicking "Accept Cookies" you agree with our cookie policy. Read about how we use cookies by clicking "Privacy and Cookie Policy".