17 August 2016
Mikhail Zheludkevich recognized for his research on corrosion science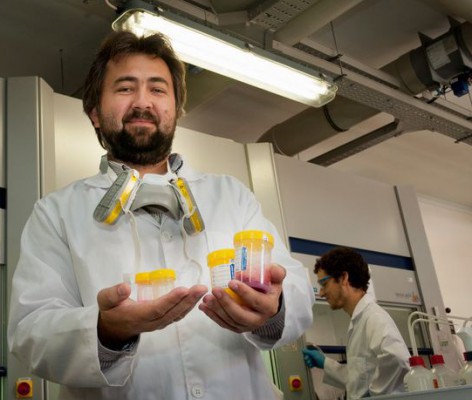 Mikhail Zheludkevich is the winner of the Tajima Prize of the International Society of Electrochemistry (ISE). The award, given by one of the most important and representative scientific societies related to the field of electrochemistry, recognizes the scientific work that the researcher from University of Aveiro (UA) has developed in corrosion science, especially through the discovery of localized electrochemical techniques and protection coatings. The award will be announced at the 67th annual meeting of the ISE to be held from 21 to 26 August, in the Netherlands, which will bring together the world's great scientists linked to Electrochemistry.
Born in 1976 in the Republic of Belarus, Mikhail Zheludkevich has a degree in Chemistry, Master and PhD in Physical Chemistry from the Belarusian State University. Specialist in Material Science, Chemistry, Electrochemistry, Corrosion Science, Coatings and nanotechnologies, Mikhail Zheludkevich is researcher from CICECO, Department of Materials and Ceramic Engineering
Developing 'smart' protection investigation against corrosion, based on the self-healing effect of release systems for corrosion protection, nanostructural protective coatings, corrosion inhibition mechanisms, composite coatings and localized technical research on corrosion the young researcher is the author of several dozen papers with thousands of citations.
Mikhail Zheludkevich is part of the team of researchers that are developing for the aviation industry a smart coating that, when applied to the fuselage of the aircraft, repairs small disruptions resulting from mechanical and environmental impacts suffered by the devices during the flight. Consisting of nano-containers with a thickness of a thousand times smaller than a hair, which release their 'restorer' compound whenever necessary.
Related Articles
We use cookies for marketing activities and to offer you a better experience. By clicking "Accept Cookies" you agree with our cookie policy. Read about how we use cookies by clicking "Privacy and Cookie Policy".