21 October 2016
Nanocellulose and copper nanowires for electrical applications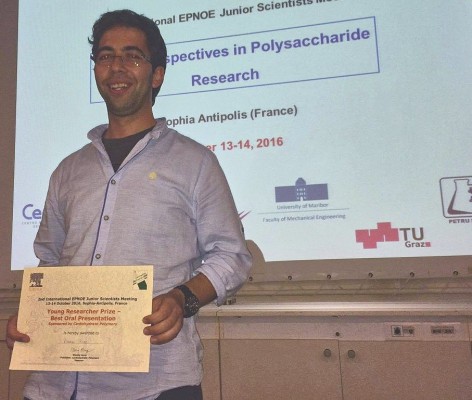 Ricardo Pinto, Postdoctoral Fellow from CICECO/UA, received the best oral presentation award, between around 40 papers presented at the 2nd International EPNOE Junior Scientists Meeting, held in Sophia Antipolis, France from 13 to 14 October 2016.

The winning work "Development of novel bio-based hybrid materials based on nanocellulose and copper nanowires for electrical conductivity applications" aims at the development of new sustainable materials for electrical conduction. In particular, these materials were prepared by combining a biopolymer (fibrillated nanocelulose) and copper nanowire following an environmental friendly approach. Incorporating a very small percentage of copper nanowires ( »3%) it was possible to obtain membranes with a high electrical conductivity and a considerable stability to air oxidation.

In recent years, Ricardo Pinto has been dedicated to the development of new sustainable hybrid materials for application in numerous areas, such as antimicrobial materials, conductors and catalysis, as well as new approaches environmentally friendly for the synthesis of nanoparticles within the its Postdoctoral project under the guidance of Carmen Freire and Paula Marques, Researchers in CICECO and TEMA, respectively.
Related Articles
We use cookies for marketing activities and to offer you a better experience. By clicking "Accept Cookies" you agree with our cookie policy. Read about how we use cookies by clicking "Privacy and Cookie Policy".