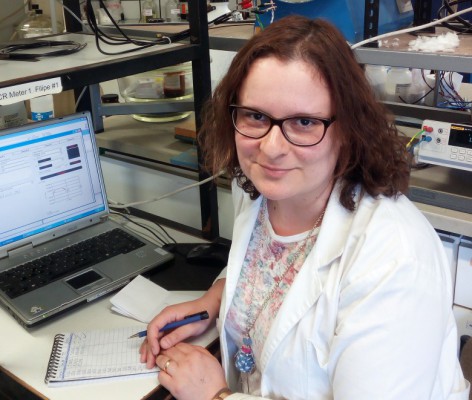 Sónia Patrício recognized for her work in the field of Electrochemistry
2017-04-28
Portuguese Society of Electrochemistry awards the 2016 Young Researcher Prize in Electrochemistry.
Sónia Patrício, post-doctoral researcher at the CICECO / Department of Materials Engineering and Ceramics (DEMaC) at the University of Aveiro, was awarded with the Young Researcher Award in Electrochemistry in 2016; An award from the Portuguese Society of Electrochemistry with the purpose of stimulating the activity of scientific research in this field.
It was with surprise that Sónia Patricio received the news: "There are excellent national researchers in electrochemistry, so the probability of achieving this award was very low", explains the researcher that during her PhD studied in depth the development of hybrid materials for Application in electrochemical sensors and since 2011 has been working with the DEMaC professor and CICECO researcher, Fernando Marques, in the development of multifunctional composite ceramic materials: from fuel cells to electrochemical membranes for zero CO2 emissions.
The researcher, who has also participated in international cooperation programs involving the mobility of young researchers with an interest in the search for alternative electrochemical applications for the systems under study, stresses that the research she has produced is of particular interest in the fields of energy, environment and sustainable development. "We have obtained a number of innovative and promising results that have given rise to relevant publications in journals of recognized scientific quality, thereby contributing to the progress in the state of the art of these mixed ionic conductive materials. On the other hand, the relevance of the results obtained was a particular focus of interest for several International Institutions and Universities, some of which are currently collaborators in the advanced study of these systems.
For Sónia Patrício, the Young Researcher in Electrochemistry Award 2016 represents the national recognition for the scientific work developed and "is always an asset to the curriculum of any researcher, besides being an incentive for the further research developments, which is not always based on successful results."
The prize will be awarded in a ceremony to be held during the next Meeting of the Portuguese Society of Electrochemistry, which will be held at the University of the Azores, Ponta Delgada, from June 19 to 22, 2017.