18 December 2012
CICECO creates smart coatings to protect aircrafts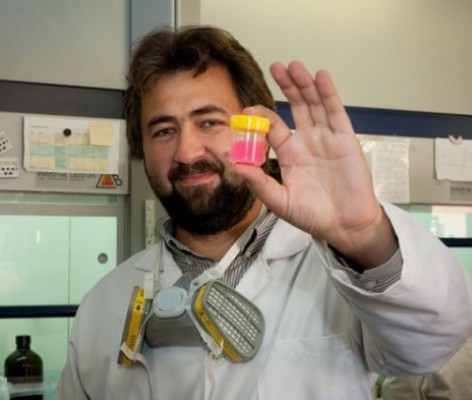 A team of researchers from the Centre for Research in Ceramics and Composite Materials (CICECO), University of Aveiro, is developing for the aviation industry a smart coating that when applied to the fuselage of the aircraft, repairs, as if it would be skin, small discontinuities resulting from mechanical and environmental impacts suffered by appliances during flight.
Consisting of nano-containers with a thousand times smaller thickness of a hair, which release their inner 'restorative' molecules whenever necessary, the coating will be used by one of the world's largest manufacturers of commercial aircraft, EADS.
In addition the company owns Airbus, which expected to be flying with the protection of CICECO in 2013, there are big names in the automotive industry, the oil rigs and wind turbines are on the waiting list to apply the revolutionary coating in their equipment developed by Centre for Research in Ceramics and Composites (CICECO).
"The functionality of self-repairing aircraft is introduced in through our nano-containers that are embedded in inks used in the coating of the devices" explains Mikhail Zheludkevich, coordinator of the research group of Surface Engineering and Corrosion Protection CICECO. "With this approach," says the researcher, "the safety, performance and long-term sustainability of the aircraft can be significantly improved."
The CICECO team is still working on another project not only thinking in AIRBUS but also in other European aviation giant, the case of Alenia Aermacchi, Bombardier Aerospace and Israel Aerospace Industries. It is also a smart coating which, in turn, releases a fluorescent solution around cracks resulting from mechanical impacts occurring either during assembly or during the operation of the aircraft. These flaws in the material often have microscopic sizes, but are highly dangerous if they are not detected in the ground, since they tend to spread in flight.
Fluorescence has the great advantage that, by making visible to the naked eye the location of the material failures, prevent the aircraft follow trip with no imperfection detected by maintenance crews. In addition, the time that the apparatus is land to be surveyed with safety is drastically reduced, which for the airlines represents one optimize use of the apparatus. CICECO predicts that within four years these intelligent coatings with mechanical impact sensors can already be flying over the skies of our planet.
The two CICECO projects, whose researchers led by Mikhail Zheludkevich are world leaders in the development of nano-containers to smart coatings, resulting from the participation in the projects MUST and SARISTU, the 7th Framework Programme of the European Union, which are also present 80 other biggest names either research or the industrial sector of the Old Continent. With the sponsorship of the European Union, and SARISTU MUST have goals for improving the competitiveness of European industry by developing smart coatings.
(Adapted from http://uaonline.ua.pt/pub/detail.asp?c=32632)
Related Articles
We use cookies for marketing activities and to offer you a better experience. By clicking "Accept Cookies" you agree with our cookie policy. Read about how we use cookies by clicking "Privacy and Cookie Policy".