16 January 2019
Manuel Melle-Franco in the synthesis of giant graphene molecules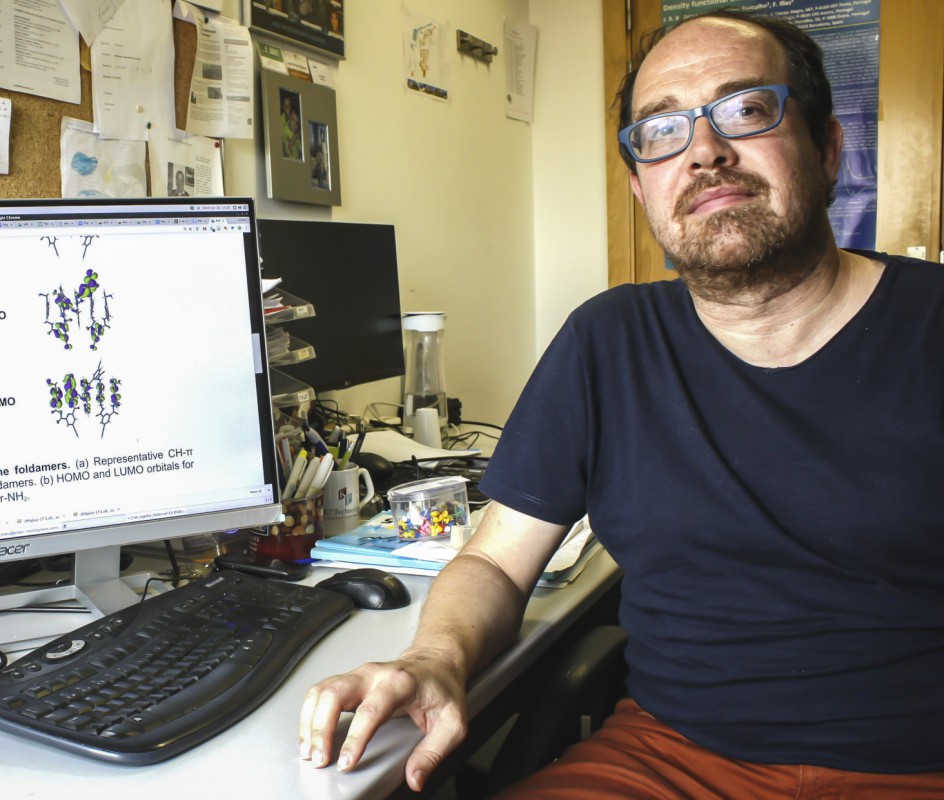 Manuel Melle-Franco, principal investigator of CICECO, was part of an international team that synthesized the largest molecule of graphene reported to date with atomic precision. These molecules are synthesized chemically, star-shaped and have diameters between 1.7 and 6.5 nanometers and up to more than a thousand atoms. The work was recently highlighted in Angewandte Chemie as a hot article.
The team, led by Aurelio Mateo-Alonso of the University of the Basque Country, integrates researchers from CICECO and the University of Osaka, Japan, chemically synthesized graphene star-shap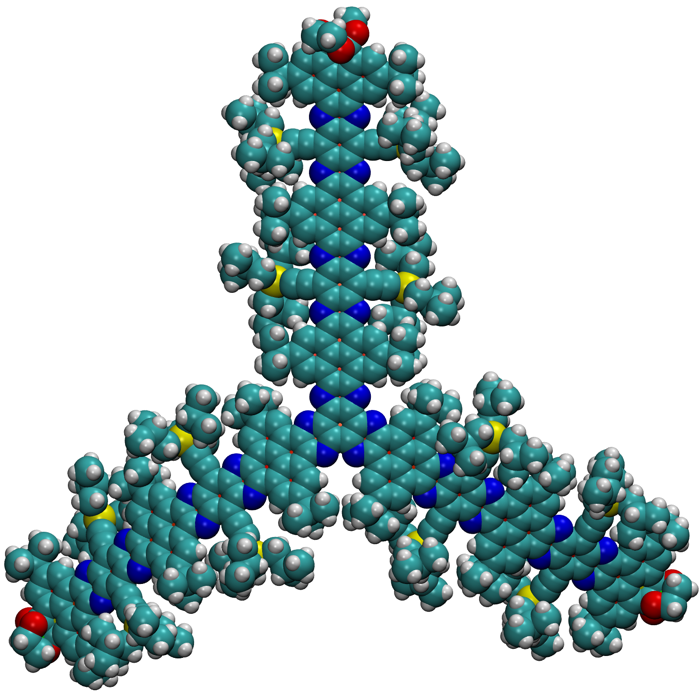 ed molecules. The graphene stars show a high potential for application in the fields of electronics, photonics and energy conversion, among others, thanks to their electronic, optical and mechanical properties.
These properties, due to their quantum nature, depend on the nanodimensions and shape of the graphene molecules. For this reason, full control of its synthesis is fundamental. This is achieved by methods of organic synthesis that achieve atomic precision but until recently only allowed to develop much smaller molecules.
The structural study of these molecules is complicated due to the large size of these molecules, which makes it convenient to use the computational models developed in Aveiro. These models allow not only to confirm the experimental observations but to understand the origin of the properties of these new molecules. Relevantly, the large size of these molecules, the larger molecule to 6.5 nm in diameter, is made of more of 1000 atoms, complicates considerably the modelling process.
New Flexible and Printable Circuit Technology
This work was published in the prestigious journal Angewandte Chemie [1] and is the result of the European Union-funded "2D-INK" project. 2D-INK aims to create the basis for a new flexible and printable circuit technology based on other nanographenes [2] and materials such as holey graphenes, also presented recently in Angewandte Chemie [3] and funded by the same project.
All these molecules were synthesized to be printable for circuits. In fact, the graphene nanostars and nanoribbons, as well as holey graphenes were designed to be soluble and have suitable electronic properties for this purpose. In fact, the presence of the holes or shape and dimensions of the nanographene molecules transform graphene into a semiconductor, a fundamental property to be able to work in a circuit.
The study and the synthesis of these materials are very complex and the use of computational models, such as these developed in CICECO, is key. These models allow the virtual study of any material and to predict many of its properties before entering the laboratory.
[1] Giant Star-Shaped Nitrogen-Doped Nanographenes, Juan Pedro Mora-Fuentes, Alberto Riaño-Carnerero, Diego Cortizo-Lacalle, Akinori Saeki, Manuel Melle-Franco, and Aurelio Mateo-Alonso. " Angew. Chem. Int. Ed. 2019. https://doi.org/10.1002/anie.201811015. (free access article)
[2] Monodisperse N-doped Graphene Nanoribbons Reaching 7.7 nm in Length,
Diego Cortizo-Lacalle, Juan Pedro Mora-Fuentes, Karol Strutynski, Akinori Saeki, Manuel Melle-Franco, Aurelio Mateo-Alonso, Angew. Chem. Int. Ed. 2018. https://doi.org/10.1002/anie.201710467 (a free access article)
[3] Twisted Aromatic Frameworks: Readily Exfoliated and Solution-Processable Two-Dimensional Conjugated Microporous Polymers, A. Belen Marco, Diego Cortizo-Lacalle, Iñigo Perez-Miqueo, Giovanni Valenti, Alessandro Boni, Jan Plas, Karol Strutyński, Steven De Feyter, Francesco Paolucci, Mario Montes, Andrei N. Khlobystov, Manuel Melle-Franco,. Aurelio Mateo-Alonso, Angew. Chem. Int. Ed. 2017. https://doi.org/10.1002/anie.201700271 (free access article).
Related Articles
We use cookies for marketing activities and to offer you a better experience. By clicking "Accept Cookies" you agree with our cookie policy. Read about how we use cookies by clicking "Privacy and Cookie Policy".