8 July 2020
3D microtissue technology win Bluepharma | University of Coimbra Innovation Award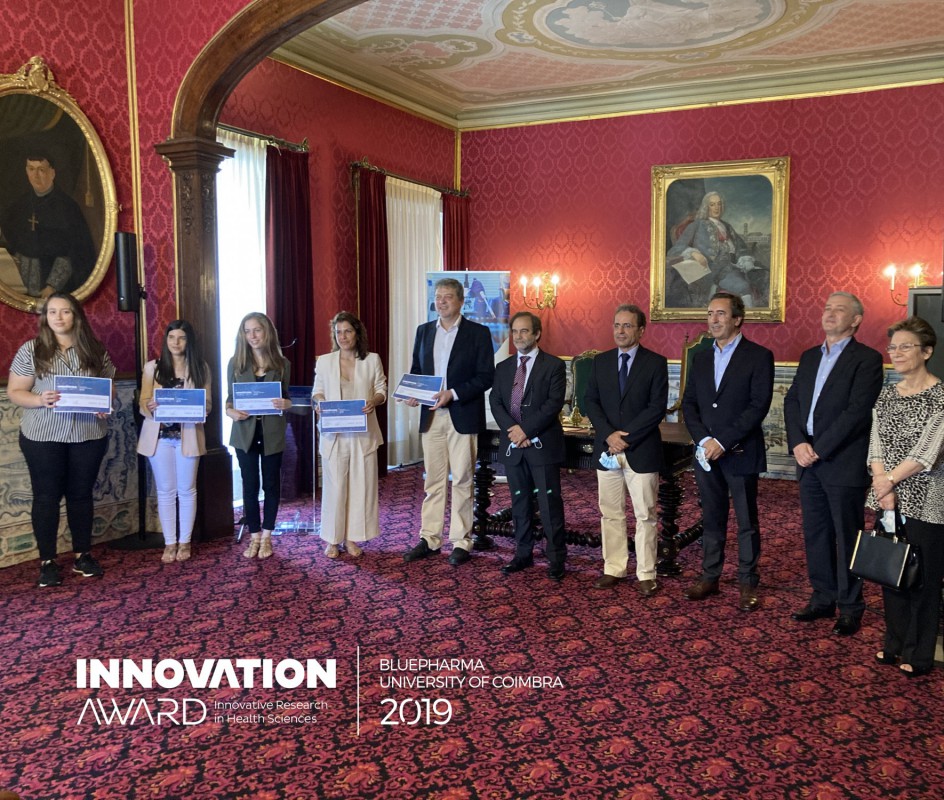 The prestigious Bluepharma | University of Coimbra Innovation Award is held every two years and distinguishes scientific projects of excellence at the international level in the area of Health Sciences, which have a high potential for transformation into products or services.
For the 2019 edition of this award, the jury highlighted the originality, innovation and potential value creation for society, of the project led by researchers from CICECO, João Mano and Catarina Custódio, that was selected from 26 candidates
The project team also composed by Sara Santos, Cátia Monteiro, and Inês Deus, aims to provide effective tools for the design of human relevant 3D models of diseases and for assessing toxicity during drug validation. This technology will accelerate the process of drug discovery and reduce the number of animals used in in vivo tests.
The project focus on the development of meaningful in vitro microenvironments that provide cells with biochemical and mechanical cues that make part of their natural milieu. This is done by manipulating proteins isolated from blood plasma or perinatal tissues to prepare the next generation of hydrogels with controlled mechanical properties able to encapsulate virtually any kind of cells. The proposed 3D humanized microtissue technology opens a range of avenues for the study of diseases and personalized medicine with high potential for clinical translation.
In the award ceremony, that took place on July 7th at the Rectory of the University of Coimbra, the Rector, Prof. Amílcar Falcão, Dr. Paulo Barradas Rebelo, the CEO of Bluepharma, and Prof. Fernando Seabra Santos, the president of the jury and former rector of Univ. of Coimbra, emphasized the quality of the project and the impact that it could have in the society.
Related Articles
We use cookies for marketing activities and to offer you a better experience. By clicking "Accept Cookies" you agree with our cookie policy. Read about how we use cookies by clicking "Privacy and Cookie Policy".