7 November 2023
CICECO research integrated in Porto Design Bienalle 2023, by Irena Übler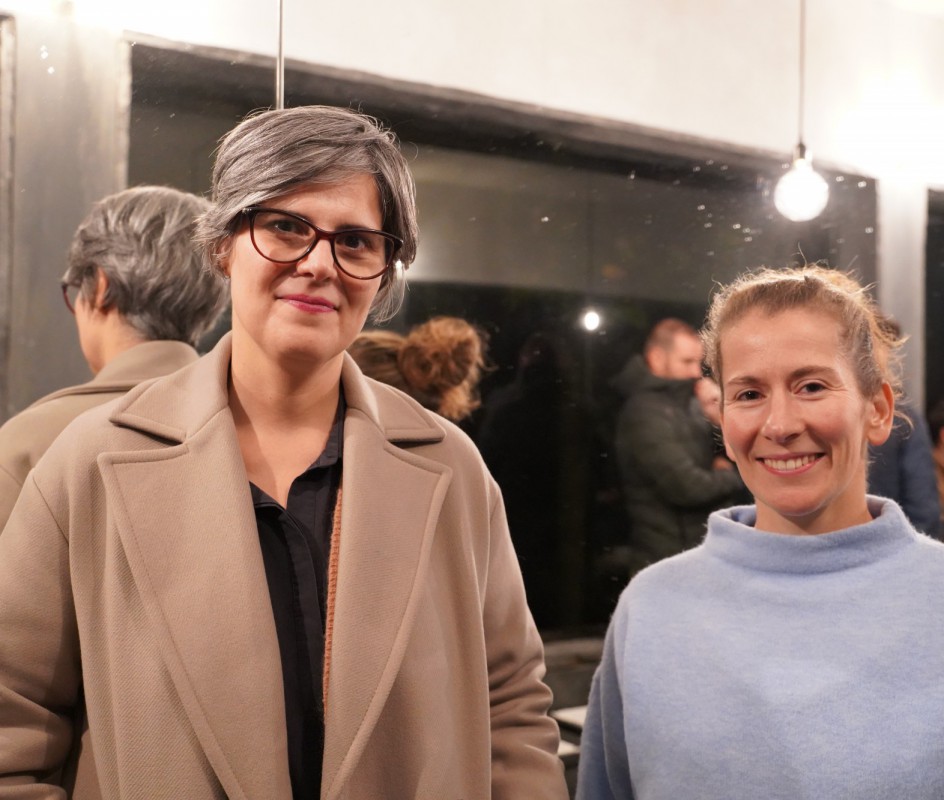 Irena Übler inaugurates, with Mónica Braga dos Santos, MUD MATTERS in Casa da Alice, no Parque das Águas do Porto. The exhibition explains the process of recycling sludge to create a new product, in an initiative that is part of the Porto Design Biennale 2023. Irena Übler received CICECO on the exhibition night and presented the entire project. The exhibition can be visited until December, 2.
A product designer welcomed the Porto Design Biennial, from the MUDmatters Project, part of the PRIMAMATTERS project, developed within the scope of the Capital of Culture Aveiro 2027. In this application, Irena began analyzing four materials: plastic, paper, cork and ceramics. Within the ceramics, Irena prepared a raw material in association with CICECO, in a process through which she found various ceramic materials from cooked shards, broken tiles, bricks and others, removed from waste. After being broken with a hammer, they were moved to the Materials Institute of Aveiro so that a very fine powder could be made into a ceramic paste.
Within the scope of the PRIMA project there was the opportunity to get in touch with the ceramics industry and large-scale production. It was at Grestel that Irena first discovered ceramic sludge that had no use and could be raw materials to be used and analyzed. Following this, the first samples of materials with different recipes were produced. In the first phase of the PRIMA project, all cooked shards used 30% recycled material, or 100% when it was not yet cooked.
At MUDMATTERS, currently on display at the Porto Design Bienal, the work focuses more on industrial sludge, collected from institutions such as the Faculty of Fine Arts at the University of Porto and small workshops that have this waste in their day-to-day work. In the exhibition at Parque das Águas it is possible to see a series of projects, samples from 100% to 0%. Irena Übler called Mónica Santos, a ceramic designer, to choose one of the recipes made and create water glasses, and dedicate herself deeply to materials research and investigation. Mónica Braga dos Santos' role focused on applying the recipe to new pieces, all made from liquid dough. Irena highlights the collaboration with another ceramicist, this time from Ílhavo, who worked this paste on the potter's wheel. "We are seeing which folders work for the work process" - he highlights.
PRIMA's future project is to experiment with more materials, always with the aim of using waste and trying to transform it. Ceramics is the main focus in the first phase of the PRIMA project, but the doors are open to other materials such as cork, paper, shellfish, natural algae and even wool. The researcher concludes: "I have worked a lot with recycled plastics over the last five years. I'm always trying to find 100% recycled materials so we can experiment with what percentage of recycling is possible and sustainable materials for the future."
More information here.
Related Articles
We use cookies for marketing activities and to offer you a better experience. By clicking "Accept Cookies" you agree with our cookie policy. Read about how we use cookies by clicking "Privacy and Cookie Policy".