13 July 2022
Margarida Martins is the author of the best doctoral thesis in the area of Sea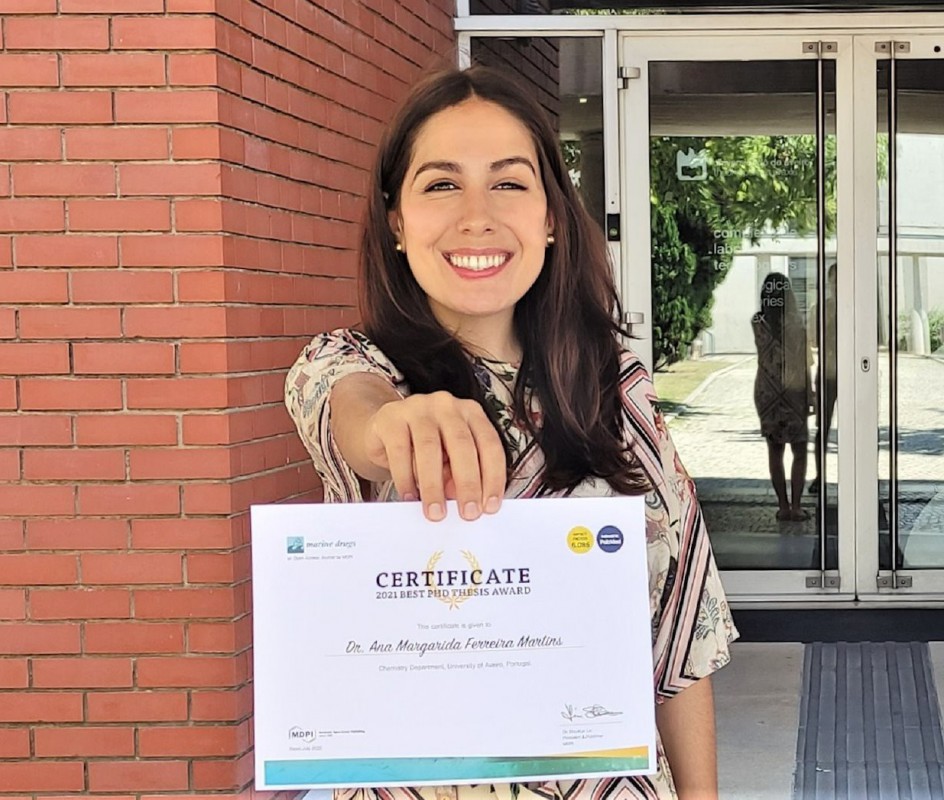 The renowned international scientific journal Marine Drugs, just awarded the student of the University of Aveiro and former researcher at CICECO for her work on the valorization of seaweed in value-added products.
"This award is a huge distinction for all the work we've done and it makes me very happy," says Margarida Martins, who will receive her doctorate in Chemical Engineering (with a specialty in Chemical Product and Process Engineering) from UAveiro in 2021.
Margarida Martins has a degree and a master's degree in Biotechnology, also from UAveiro. She recalls that their respective supervisor "have a line of research focused on the development of sustainable chemical processes, from the economic and environmental point of view, based on the use of marine biomass."
"The idea of my doctoral work was to valorize renewable marine resources and waste from the sea industry in order to obtain various value-added products, in a blue circular bioeconomy concept, with application in different industries, from health to energy," explains Margarida.
During her academic career, Margarida Martins published about 30 scientific articles in high-impact international scientific journals and registered some of the processes developed with a national patent, factors that she believes were fundamental to win this distinction. All this was possible, she says, with the support of her supervisors [Sónia Ventura and João Coutinho, researchers at the UAveiro Department of Chemistry]. "I am very grateful to them for all the opportunities, for having leveraged all my steps and being by my side in all my conquests," she adds.
Finally, Margarida speaks about where her doctorate took her: "Due to my doctorate work and our concern with the proximity to the industrial environment, today I work in the management of innovation projects in the company ALGAplus, a company that produces seaweed, with which I was already working in partnership in the context of my doctorate," she says.
Related Articles
We use cookies for marketing activities and to offer you a better experience. By clicking "Accept Cookies" you agree with our cookie policy. Read about how we use cookies by clicking "Privacy and Cookie Policy".