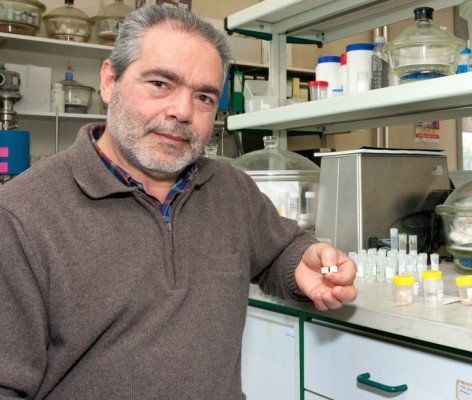 José Maria Ferreira distinguished by European Ceramic Society
2015-07-22
Fellow title, the first at national level, awarded in Toledo (Spain) during the ECerS 2015
José Maria Ferreira, researcher of CIECO and Department of Materials and Ceramic Engineering (DEMAC), University of Aveiro (UA), was awarded the title of Fellow of the European Ceramic Society (ECerS), the first at national level. The distinction, awarded in Toledo, Spain during the ECerS 2015, the 14th conference of one of the most important European organizations dedicated to the study and promotion of the area of ​​Ceramic Materials, was handed over to José Maria Ferreira in recognition for the achieved results and data input in the field of ceramic materials.
Coordinator of Advanced Processing Group of Ceramic Materials (DeMac), José Maria Ferreira's main research targets the processing ceramic, glazed, glass-ceramics and composite materials, with special emphasis on the development of synthetic bone graft substitutes for applications in bone regeneration in orthopedics and dental medicine, tissue engineering and controlled drug release.
"To see our work recognized internationally is always a source of great personal satisfaction, but also collective - group and research unit, national and international collaborations, whom I am very grateful for their contributions, institutional and national", welcomes José Maria Ferreira. But the title, adds the researcher, "also aims to distinguish contributions made in the pursuit of the objectives of ECerS and its national counterpart, the Portuguese Society of Ceramics and Glass (SPCV) from which I am the president since 2010".
From the intense activity of ECerS is important to note the emphasis given by the organization in promoting activities involving collaborations between different associated member states in particular early-stage researchers and PhD and master students, with financial support through the JECs Trust.
The mobility of researchers and the possibility of spending some time in a laboratory equipped with complementary facilities and expertise to the existing nationally, aim to raise the bar on research quality and contribute to the prestige of the Journal of the European Ceramic Society. "Portugal is in second place in terms of fund usage from JECs Trust, but still far too short from the amounts available, waiting for good proposals", recalls José Maria Ferreira. Thus, the SPCV encourages all researchers in early career, doctoral and master students, to apply for JEC Trust funding. For this purpose, they should be or become members of the SPCV, a condition which also applies to their supervisors.
It should be noted that the same title of Fellow of the European Ceramic Society was also granted to another 11 scientists during the ECerS 2015, joining these to the 31 existing Fellows, thus making a total of 43.