26 April 2019
Direct-writing additive manufacturing of lead free piezoelectric parts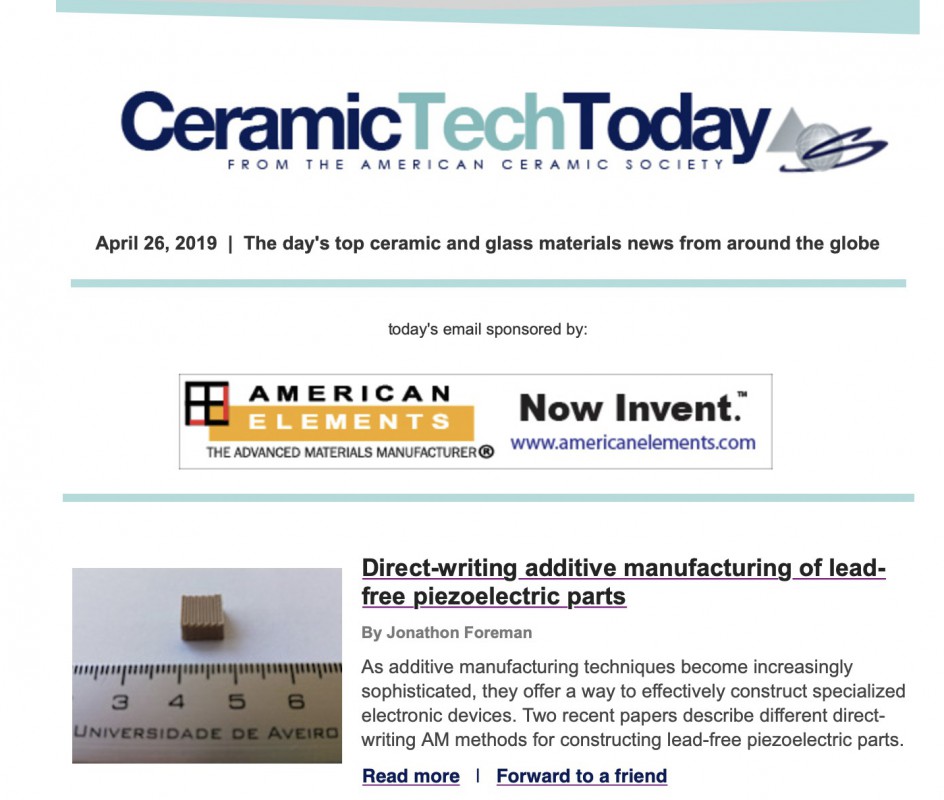 Front page todays news (April 26, 2019) at the American Ceramic Society News Letter - Ceramic Tech Today, the work developed by researchers from the Associated Laboratory CICECO, University of Aveiro, Bo Nan, Susana Olhero, Rui Pinho, Paula M. Vilarinho, and José M. F. Ferreira, in collaboration with the University of Birmingham (UK), on Additive Manufacturing of Piezoelectric Free of Lead.
According to the news by Jonathon Foreman (Ceramic Tech Today), the relevance of the work relates to the investigation of lead-free piezoelectric materials manufactured by additive manufacturing techniques for the sustainable manufacture of electromechanical sensors.
On one hand, in the current framework of lead-free manufacturing (RoHS in 2006), it is crucial to find lead-free electroceramines with optimized properties. On the other hand, the emergence of a new forms of manufacturing - additive manufacturing - through which objects are built layer by layer, can easily allow the manufacture of complex shapes that are difficult or impossible to manufacture using traditional manufacturing techniques, whereby complex geometries, for example of electroceramic systems, can be manufactured as a way of optimizing their performance.
Thus, in full compliance with the objectives of the Sustainable Agenda for 2030 (2030 Agenda for Sustainable Development and its Sustainable Development Goals https://www.un.org/sustainabledevelopment/development-agenda/), the manufacture of electromechanical sensors (such as those developed in the work of CICECO researchers), will contribute to enhancing the Internet of Things (IoT), communication between people and objects, increasing the efficiency of production systems and the development of alternative and clean ways of generating energy.
Article:
Direct ink writing of macroporous lead‐free piezoelectric Ba0.85Ca0.15Zr0.1Ti0.9O3, Bo Nan, Susana Olhero, Rui Pinho, Paula M. Vilarinho, Tim W. Button, José M. F. Ferreira, Journal of the American Ceramic Society, 2019;102:3191–3203.
Figures:
Related Articles
We use cookies for marketing activities and to offer you a better experience. By clicking "Accept Cookies" you agree with our cookie policy. Read about how we use cookies by clicking "Privacy and Cookie Policy".