31 May 2021
Saliva NMR metabolomics: a new tool for gestational diabetes management?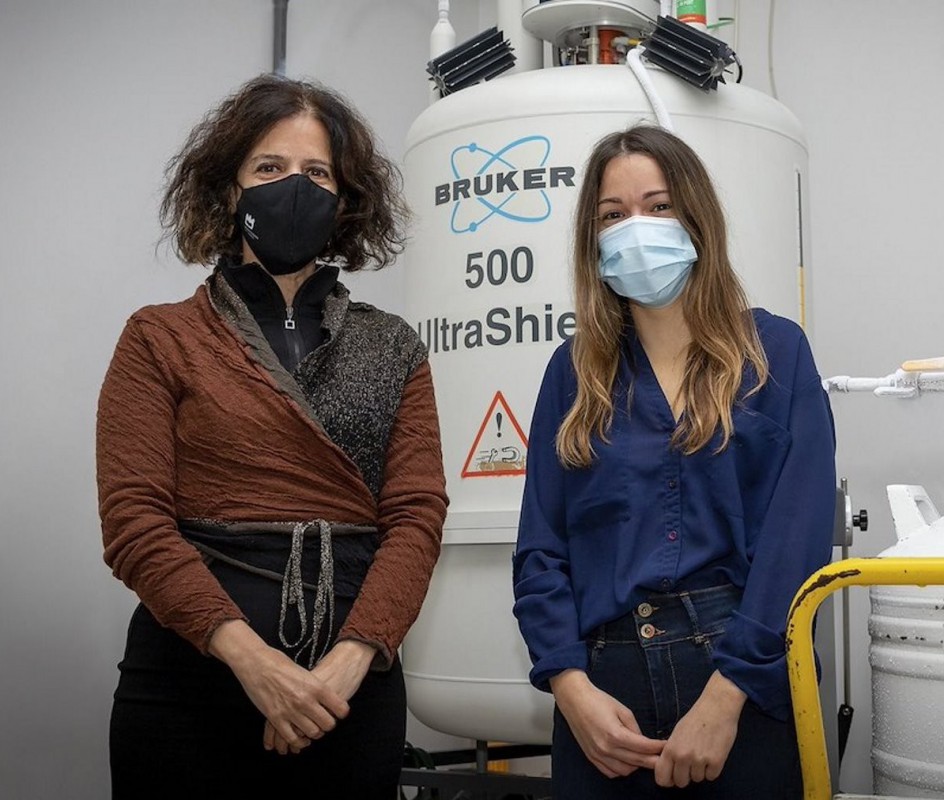 Daniela Duarte, a doctoral student in Biochemistry from CICECO at UA, was recently awarded by the Organizing Committee of the 10th GERMN 9th Ibero-American 7th Iberian NMR Meeting, with the "Best Poster Award in the Topic of Metabolomics and Small Molecules", for the work entitled "Saliva NMR metabolomics: sample stability during collection and application in Gestational Diabetes Mellitus".
About to finish her doctorate in Biochemistry, Daniela Duarte is studying preterm birth and gestational diabetes and the potential of two non-invasive and easily collected biofluids - urine and saliva - to support their prediction, diagnosis and therapy. To do this, she explains that "nuclear magnetic resonance and mass spectrometry techniques have been used in conjunction with multivariate statistical analysis, and this area is called metabolomics."
She adds: "As saliva is one of the least explored biofluids (but of growing interest) it becomes essential to understand its stability so that there is no degradation of the sample when it is collected in a clinical context. Thus, in the work now distinguished, a stability study was carried out, having verified which conditions are recommended for dealing with this biofluid in the laboratory, to ensure that it maintains its original composition. Moreover, it was intended, for the first time, to show the applicability of this biofluid in the context of gestational diabetes, and therefore to understand the impact of different treatments (diet, insulin, metformin) on the salivary metabolome of the pregnant woman."
According to the doctoral student, the contribution of her study reveals a strategy that may allow earlier clinical recognition of gestational diabetes and preterm birth through novel markers of changes in metabolism. "In the case of gestational diabetes, we are trying to define metabolic signatures that indicate whether a given subject is responding well to therapy or needs to adapt/change it - this knowledge can greatly help doctors," she assures.
Under the guidance of Ana Gil, researcher at CICECO and professor at the Department of Chemistry, and by Pedro Domingues, professor at the same UA Department, Daniela Duarte admits that this distinction represents not only the recognition of the work developed, but also the promising character of this biofluid. Additionally the question was asked: what would you like to do after completing your doctorate? To which she answered with: "Urine has been shown over the years to be a promising biofluid in predicting for example premature birth. I would like to further explore this with both biofluids in larger cohorts, from different geographical and international areas, in order to make a link between research and the clinic."
Related Articles
We use cookies for marketing activities and to offer you a better experience. By clicking "Accept Cookies" you agree with our cookie policy. Read about how we use cookies by clicking "Privacy and Cookie Policy".