28 June 2013
Research opens new perspectives in photothermal therapy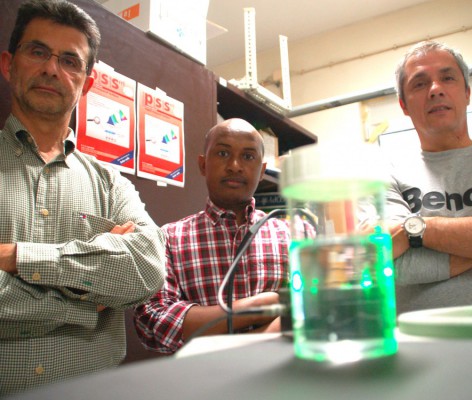 It is a nanotool joining gold nanoparticles whose purpose is to release heat by absorbing infrared light (nanoheaters) and lanthanide metal oxides nanocylinders. These last elements emit visible light whose intensity varies with temperature (nanothermometers).
The new nanotool is a technological breakthrough because it allows one to measure with great precision on the scale of nanometers, the increase in temperature caused by the absorption of infrared light by the metal nanoparticles of gold.
Local heating caused by absorption of light by certain metal nanoparticles has numerous applications in photovoltaic sensors, in controlled drug delivery and hyperthermia. In this form of therapy nanoparticles are used, for example gold, which after administration to the patient accumulates in the cells of certain tumors. Irradiation of these tissues with infrared light and their absorption by the nanoparticles causes the death of tumor cells by heating.
It is, therefore, important to measure the local temperature of nanoparticles in order to avoid that the heat released also destroys benign cells. Herein lays the main novelty of the work developed by the researchers from the Centre for Research in Ceramics and Composite Materials (CICECO): the nanotool opens the prospect of being able to simultaneously heat and measure the temperature of the cells. It is this possibility that the group studying right now.
Luís Carlos Dias, one of the researchers at CICECO, expects this new nanotool to be "directed exactly to malign cells destroying them through heat, controlling the temperature rise, without the patient having to resort to conventional therapies that also end up to affect healthy cells." All of this in a not too distant tomorrow.
Mengistie Debasu, Duarte Ananias and João Rocha are the remaining UA researchers who developed this new device which will be described in an article that is the cover of the next issue of the prestigious journal "Advanced Materials".
The nanotool has not been tested on cells yet. The research team is now aiming to take the next steps: laboratory tests on cells and subsequently in animals.
This work was developed in partnership with the Spanish universities of Vigo and San Sebastián.
Related Articles
We use cookies for marketing activities and to offer you a better experience. By clicking "Accept Cookies" you agree with our cookie policy. Read about how we use cookies by clicking "Privacy and Cookie Policy".